Sky AdSmart: A TV advertising revolution offering SME's free TV advertising campaigns is back for 2021.
Sky's support scheme for small businesses, SME100, is back for its second year, so get in touch straight away – and this time, there is £2m worth of TV advertising up for grabs.
The scheme will offer 100 small businesses £20,000-worth of TV advertising each across Sky Media's channels via AdSmart (the company's addressable TV platform), as well as a free 12-month superfast business broadband and digital phone package through Sky's B2B telecoms business, Sky Connect.
The 100 chosen businesses are set to reflect the UK – both from a geographic and diversity perspective – with ambitions for 20% of winners to come from a minority ethnic background.
Each winner will be paired with a local creative agency to design their TV campaign, which is expected to drive business results by specifically targeting audiences that matter to the business.
Businesses can nominate themselves via the SKY scheme's website, or email us your details and we will liaise with our area reps. All applicants will receive a £250 discount for any 24-month Sky Connect broadband and digital phone package.
It is open to any small business with fewer than 50 employees that have been running for at least one year in the UK.
"Small British businesses are more important to the UK economy than ever before," Stephen van Rooyen, executive vice-president, and chief executive of Sky across the UK and Europe, said.
"The pandemic has hit them hard, and we want to ensure they can bounce back even stronger.
According to van Rooyen, Sky has contributed more than £4.5m in advertising support for small businesses in the past year (including the SME100 scheme).
He continued: "Through the SME100 scheme we're offering industry-leading products to help them stay connected to their customers and most importantly, increase their sales and revenue."
Last year's SME100 scheme planned to provide £1m in support for small businesses, but high levels of interest led Sky to more than double the size of the scheme, increasing it to £2.5m of ad time across 250 brands.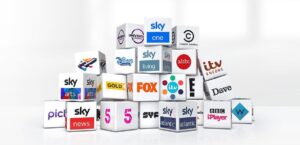 More about SKY ADSMART Benefits
Let us show you how Sky AdSmart can benefit your business from appearing on Sky TV Channels amongst major brands.  TV is exciting, emotional, engaging, and has the ability to bring your brand in front of thousands of targeted viewers.  With the average viewer watching over 3 hours per day, it gives TV advertisers the chance to build scale.  When your brand appears in the ad breaks of world-class shows it will be remembered.  AdSmart makes this all so easy for businesses of all shapes and sizes so if you are considering TV advertising then talk to Redwood about a TV Creative and Airtime package.
Take a look at a few commercials.
So how does it work?
Sky AdSmart tailors the advertising presented to viewers by collecting data from its customers, such as postcodes, age, and gender of the household members, leisure interests, earnings, and buying habits to affect what type of television adverts are shown. In other words, no two Sky households in the same street will necessarily receive the same adverts on their individual TV screens. This is both beneficial to the customer and the company advertising; customers are not bombarded with adverts for products or services, not of interest to them, and wasting important advertising revenue on those out of your key audience demographic. Ultimately this leads to greater conversion, so long as the creative is right of course!
Companies also have greater autonomy with Sky AdSmart. Sky AdSmart allows businesses to select target audiences based on over 400 intricate demographic specifications. Combinations are drawn from Sky's collection of customer information, and in-depth consumer profiling from experts such as Experian, you have a vast array of factors to tailor your television campaigns to using this medium.
If your key audience is targeted towards, city-centric populations say, and not rural communities; then you don't pay for adverts to potentially non-city-centric customers. As you pay for the number of times your advert is screened, you are effectively adjusting your budget effectiveness, which in turn will ensure a greater return on investment. This has the added benefit of reducing paid for wasted airtime and creates far more effective campaigns limited by interest and likelihood of conversion over larger players such as ITV and Channel 4, therefore potentially at a more attractive price for the smaller, niche, localised product or service.