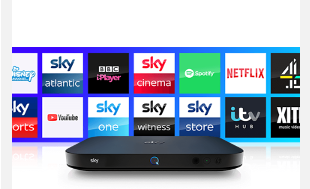 Just when you think BVOD is gathering pace along come Short Form VOD from Sky TV. We thought we would re visit the Sky Q online video format for short form streaming content and explain in a bit more detail.
Sky Short form VOD is a solus pre roll served against broadcast quality content on the sky website, apps and you tube pages.  Content includes the best bits of your long from commercial which can be clipped into bite size chunks.  Latest results show 150+ million video views are being aired per month on web, app and you tube.  That is a massive audience.  Is your brand missing out on this audience?  How does short form video (SFVOD) play a key role in our daily lives?  It is consumed every day throughout the day which fills dull moments easily and quickly.  Short form viewing is a personal moment so we can be very targeted to reach your target audience.  Consumers are highly involved and commit to the content with no restrictions.  We love SFVOD as we report on all campaigns and where your traffic is generated from. SFVOD provides 'new' viewing moments and complements Live TV and long form BVOD.
Key Benefits for Brands who advertise on Sky SFVOD
Sky SFVOD delvers incremental reach and can add up to 33% incremental reach vs TV and VOD.  It drives deeper engagement with the souls pre-roll on a personal screen, usually held in one hand offers a one to one experience with an invested targeted viewer.  Converts viewers/target audience in to customers as SVFOD can help drive the path to purchase through second screen viewing.
Are you trying to reach your target audience who enjoy Football.
Alongside Sky Sports 128 game TV coverage, Sky sports holds exclusive rights to Premier clips from all 380 fixtures in 20/21 and will distribute in game highlights, pre and post match content across web, app and you tube channels.  Never miss out of the action.  Every game and every goal can be captured and watched with so much content from 38 weekly round ups, goal of the month and exclusive interviews you could feature your brands advert on the solus pre roll which are non skippable.
If it's not sport we have the option of Reality shows, Comedy, Entertainment, Sky News, Travel, Uk Worldwide, Science Tech channels  to reach your brands target audience.  Sky have also recently added the Playworks App on Sky Q so this enables us to reach even more audience and in particular the hard to reach 16/34 age range.
What are the targeting options?  Target based on content genres or specific programmes, sports and events all available by device , time and regional targeting. What are you waiting for?