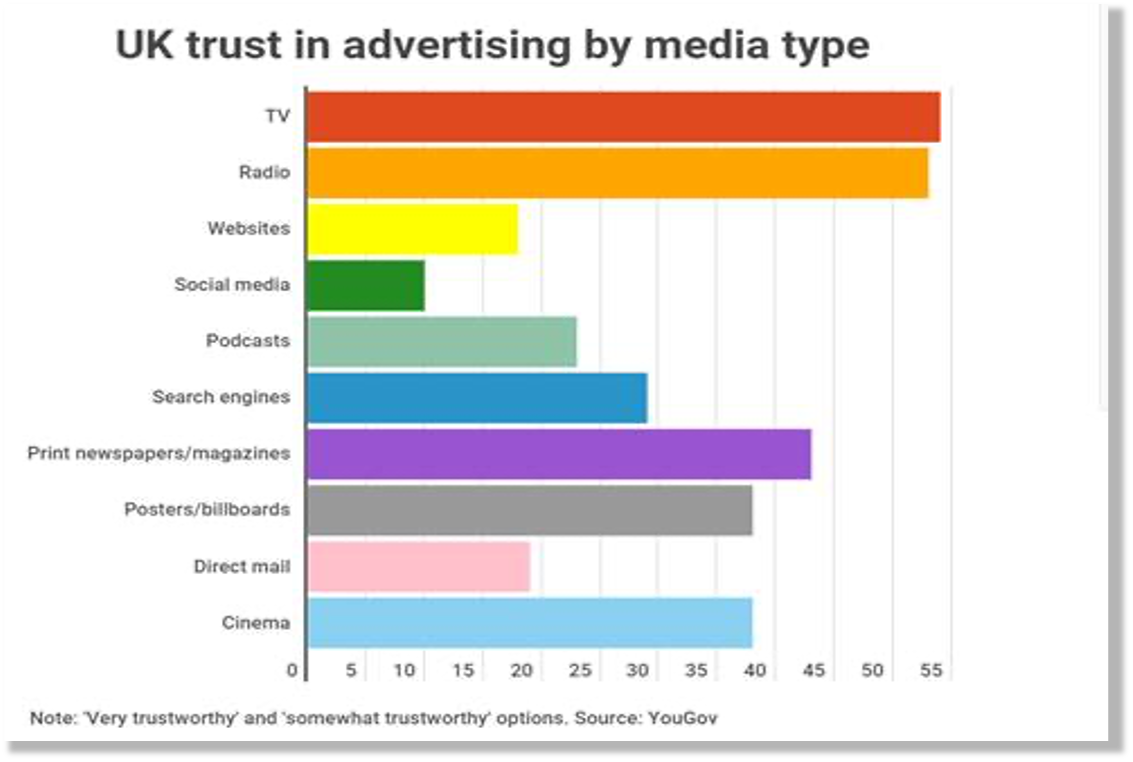 Trust is a hot topic in TV Advertising.
February 2021 chart of the month is from a new YouGov Study which looked at how much people currently trust different type of advertising.  Probably no surprise to find out that TV and Radio Advertising came top in the study.  In the UK TV and radio were considered very trusted advertising mediums.  Three other established media, print, out of home and cinema were still a trusted source of advertising but only a third as compared to TV.  The least trusted was social media at just 10% with only 1% finding it very trustworthy.
Source: Thinkbox & YouGov
Surprisingly there are new low levels of trust in advertising on websites in fact 75% said they are not very trustworthy.  At the bottom of the chart was direct mail.  These latest results show Advertising has a problem across all media but varies by demographics.
Lindsey Clay – chief executive of Thinkbox argued " We're seeing a return to the higher ground in adverting and these findings reflect it.  TV is held to the highest standards viewers and advertisers know this.  TV earns it's trust.  Unlike social media TV pre vets all its content and advertising at great expense.  This investment guarantees its brand safety.  Being seen on TV creates brand trust, it signally quality and credibility – which explains why so many online brands are on TV".
Not only should the advertising platform be trusted and valued, the media agency you choose to work with should also be trusted.  Look for an agency who offers complete trust, honesty and transparency.  It's a great time to start adverting on TV while the costs are lower than ever.