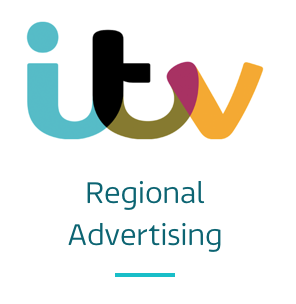 ITV regional advertising opportunities will enable brands to spread their TV Advertising budgets across macro or micro regions.  This will also help national brands experiment with different localised areas  and scale up and scale back once we are out of lockdown.  ITV are the only sales house/broadcaster that allows brands to advertise to target audience on a national, macro region and micro region level.
Here are an example of tv advertising costs for February 2021 based on a medium weight airtime, 100 Adult TVR's per week.  Of course we have added a medium weight ITV Hub campaign to boost audience reach.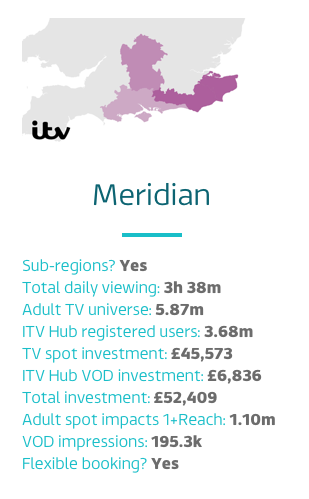 The ITV Meridian Region can be split into 3 smaller areas to start on a smaller scale.  We can cost for TV advertising campaigns on ITV Thames Valley, ITV Meridian South and ITV Meridian South East regions.  The example above shows you can reach an Adult viewer at £0.04 per view.
How does ITV Hub work along side your airtime campaign?
ITV Hub have over 32 million registered users across the network.  Broadcaster VOD (BVOD) advertising is a great way to target your chose audience, as you can choose the programmes, times of day and days of the week on a trusted platform.   70% of all VOD viewing is now consumed in the Living room delivering the impacts to 1+ audience.  Advertisers allocate around 15% of the airtime budget on ITV hub to reach the audience that prefer catch up TV.
Tell us where in the UK you want to reach your target audience and leave the rest to us.