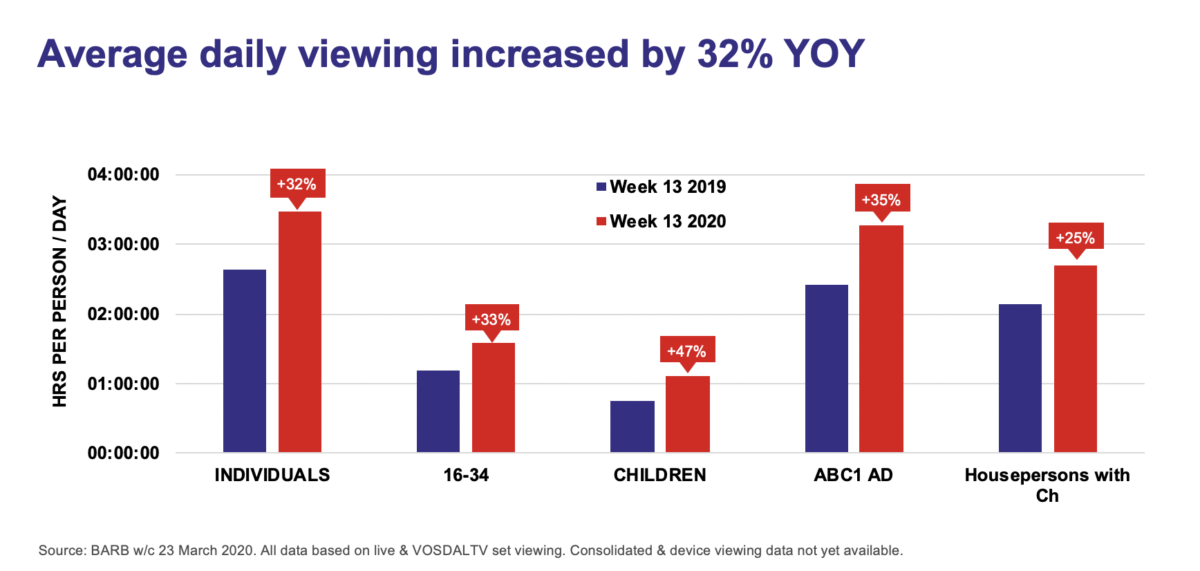 As TV viewing skyrockets, CEO Lindsey Clay at Thinkbox looks at the roles of TV and TV advertising during the current crisis.
We are already seeing a dramatic effect on TV viewing, which grew by 17% year on year last week, has been tracking down about 4% this year. So, people watched an average of 28 minutes more a day.
Daytime average TV audiences have grown 29% and daily reach has increased by 18%. Viewing among children has grown by 20% (and this was before the schools were closed). Monday's prime ministerial address to the nation was watched by 27 million people on TV.
Media consumption and the impact of advertising are linked. So the crisis is also having an impact on advertising; it is changing how advertising should – or, in fact, can – be approached.
Thinkbox's role is to help advertisers, to offer the best advice through uncertain times. And when we do get through the current uncertain times, it will be vital that businesses are in as strong a position as possible to help rebuild our economy.
Those businesses are of course under immense pressure, which inevitably puts pressure on their advertising budgets.
Some sectors will be affected more – travel is the obvious example. Some, though, will likely see a surge of interest because their products and services will be vital in this period.
There can scarcely be a better time to be an online retailer, for example. Home entertainment, too, has never been more central to our lives. Disney+ is launching at a good time if this time can ever be described as good.
As some advertisers, like travel, have little choice but to reduce their TV spend and TV viewing shoots up, the average price for a TV spot will come down (in TV terms, this means demand is down and supply is up).
The impact of this for advertisers is that TV advertising pricing will offer ridiculous value over the next couple of months.
This presents an opportunity to brands that can earn market share growth through well-established marketing mechanics such as extra share of voice.
For every 10% point of an extra share of voice (a brand with 10% market share but 20% share of voice will have 10% points extra share of voice) on average, you will earn 0.5% market share growth, according to Les Binet and Peter Field.
Going after this growth is not mercenary panic-buying; it would be a sensible business decision that would not only offer a competitive advantage, but fuel the economy (and, obviously, fund TV shows).
Now is the time to back up your brands. For most, there is little point in a focus on sales activation at this point with the world in retreat. But when we emerge, brands that maintained or built will be much stronger for it.
It may feel weird to be talking about opportunities at a time like this, but it is weirder still to ignore them. The worst thing to do would be to grind everything to a halt.
We must engage with the real world and its future still. And advertising has an important role to play in keeping commerce going.
Not all advertisers will be able to take advantage of the value on offer but, for those that can, competing via advertising is an important way through this and out the other side.
From Lindsey Clay is chief executive of Thinkbox